---
Ina Jane Hamrick Cogar
79, of Webster Springs
---
Denzil Cleveland Cowger
77, of Luray, Va.
---
Margaret Louise Dempsey
76, of Craigsville
---

Betty Estep Good
73, Summersville
---
Walter Frewen Gainer
75, of Ellicott City, Md.
---
Johnsey "Jay or J.L." Leef
Charleston
---
Clarence McClung
86, of Garden City, Mich.
---

Mary Louise Rose
91, Birch River
---
Erma Lee Wilson Rigby Stults
87, of Murfreesboro, Tenn.
---

FOR FULL OBITUARIES PLEASE SUBSCRIBE TO EITHER THE PRINT EDITION OR THE GREEN EDITION OF THE NICHOLAS CHRONICLE
Follow us on Facebook and Twitter!
Five area residents die in South Carolina crash
Five residents from Nicholas and Webster counties were fatally injured in a vehicle crash, which occurred on Thursday, July 2, in South Carolina. The group was reportedly traveling to the beach for vacation.
According to the South Carolina Highway Patrol, the accident occurred around 12:30 p.m. on Interstate 26 near Orangeburg, S.C. A driver and six passengers were eastbound in a sport utility vehicle when it went through the median cable onto the other side of the highway and slammed into two tractor trailers traveling west. Five of the seven people in the SUV died upon impact.
"Far from the madding crowd"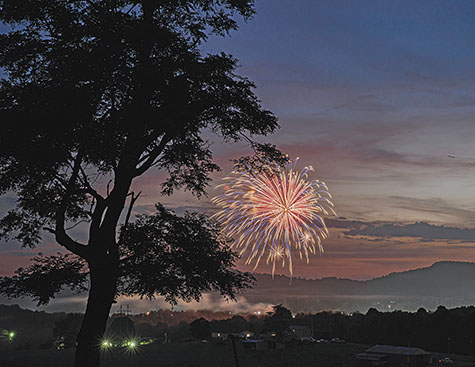 Anne Johnson
Some sought distance at this year's Fourth of July fireworks display in Summersville, watching from their cars with family, nearby hilltops with friends or any other place that afforded the safety of space. The popularity of the display continued this year as Summersville Police Chief Jay Nowak estimated the crowd size in the immediate area of the display to be a robust 7,000 revelers.
---
Richwood's former mayor pleads not guilty in circuit court
The following individuals were arraigned, or presented with formal charges, at 10:30 a.m. on Monday, July 6, 2020, in circuit court in Summersville.
The defendants appeared with their attorneys before Judge Stephen O. Callaghan, and entered pleas to their charges.
Their bond was then continued or set. Pre-trial hearing and trial dates were also scheduled.
They were indicted by a grand jury on Tuesday, June 16.
Christina M. Drennen, charged with two counts of obtaining money, property or services by false pretenses and one count of fraudulent schemes, pleaded not guilty. A pre-trial hearing is scheduled for 10 a.m. on July 25. Trial is set for Aug. 25.
Board mulls school re-entry; Penix and Moose sworn in
The Nicholas County Board of Education on Monday evening, July 6, discussed the various options and methods to re-opening schools next month amidst the coronavirus pandemic.
The board also swore in a newly-elected member and a re-elected member, voted to keep the same officers as this year, approved two contracts for site preparation for new school construction, awarded bids for paper and food service products for the upcoming school year, approved a proposed policy regarding high school student transfers and athletic participation and approved an amendment to an employee 403 (b) Plan.
Present for the first meeting of the 2020-21 fiscal year were board members Fred Amick, Phil Berry, Libby Coffman, re-elected board member Gus Penix and newly-elected board member Roy Moose.
Swearing in of new and reelected members
Nicholas County Circuit Court Judge Stephen Callaghan presented the official oath of office to newly-elected board member Roy Moose of Fenwick who was elected to a four-year term in the June 9 primary election.
Judge Callaghan also swore into office board member Dr. Gus Penix of Summersville who was reelected to a four-year term in the June 9 Primary Election. It will be Dr. Penix's second full term on the board.
NCCTC Wins 2020 Pacesetter Award
Nicholas County Career and Technical Center in Craigsville is the winner of a 2020 Gene Bottoms Pacesetter School Award from the Southern Regional Educational Board for the second year in a row.
NCCTC was honored on July 6, at SREB's Making Schools Work Conference in Nashville, Tenn., due to the cancellation of the 2020 conference in New Orleans, La.
Pacesetter School Awards recognize schools that are implementing one of SREB's Making Schools Work school improvement frameworks and are achieving success in meeting bold goals related to increases in student graduation rates, readiness for college and careers, and credential attainment. NCCTC implements Technology Centers That Work, SREB's school improvement design for technology centers. After several years of declining enrollments, in 2017-18, NCCTC successfully put in place strategies to increase awareness of its high-quality career and technical education programs and overcome misperceptions about the value of CTE.
After meeting a 2018-19 goal to market its programs to more students, NCCTC increased its enrollment by 44 percent and set new targets for the next two years.
For 2019-20, NCCTC focused on increasing awareness of its CTE programs among teachers, counselors and principals. The center also created a STEM Academy to provide a rigorous and exciting hands-on experience for eighth graders. Enrollment at NCCTC increased an additional 44 percent over the previous year. The focus for 2021-22 is to increase exposure among area business and industry partners.
SREB's Making Schools Work Conference is held annually and provides educators with opportunities to participate in professional development, network with colleagues from across the country and build school and district leadership capacity.
Chapter of Excellence
NCCTC was also the only school in the state to earn a gold distinction in the Chapter of Excellence Program by SkillsUSA.