---
Alice Ann Derberry
88, of Summersville
---

Evelyn Mae (Sid) Easter
88, of Hurricane
---
Elizabeth Rose Hinkle
75, of Craigsville
---
Robert A. "Bob" Tyler
68
---
Cheryl A. Holmes Salomon
Memorial service at Birch River Cemetery on Saturday, July 24, 2021, at 11 a.m.
---

FOR FULL OBITUARIES PLEASE SUBSCRIBE TO EITHER THE PRINT EDITION OR THE GREEN EDITION OF THE NICHOLAS CHRONICLE
Follow us on Facebook and Twitter!
SRMC Board Meeting on Thursday, Sept. 16
The monthly meeting of the West Virginia Health Care Cooperative, Inc. dba Summersville Regional Medical Center Board of Trustees will be on Thursday, September 16, 2021 at 12:00 noon Via Conference Call. The purpose of the meeting is to consider monthly reports and any other business which may come before the Board. For further information, please call 872-8414.
---
Nettie woman wins truck in vaccination sweepstakes
Grace Fowler, of Nettie, knew she was meeting someone at the Summersville Wendy's on Wednesday, July 14, 2021, at 12:30 p.m.
What she didn't know was the meeting was with West Virginia Gov. Jim Justice and his English bulldog, Babydog.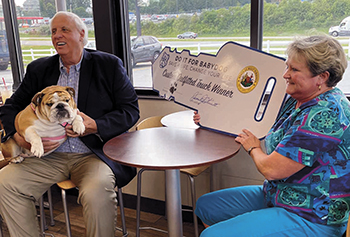 Jill Nettles Butcher photo
Babydog bearing gifts: Gov. Jim Justice and his English bulldog, Babydog, left, meet with vaccination sweepstakes prize winner, Grace Fowler.
Justice and Babydog were in town to present Fowler a custom outfitted truck — a black Dodge RAM with leather interior.
Fowler won the truck in the Covid-19 vaccination "Do it for Babydog: Save a life, Change your life" sweepstakes.
To the surprise of the lunchtime crowd, Justice, along with Babydog, sat down with Fowler at her table.
She told him that she received her vaccines in December and January.
She also urged people to get vaccinated to help save lives.
Fowler, a dietary clerk at WVU Medicine/Summersville Regional Medical Center, said she was "overwhelmed and nervous" at the surprise.
She had dreamed of owning a new truck and her boyfriend, Dennis Akers, who brought her to the meeting, said she'd been talking about trading her vehicle.
---
Commission contributes to airport
The Nicholas County Commission on Wednesday, July 14, voted to provide financial support to the Summersville Airport and the Nicholas County Child Advocacy Center.
The commission also contributed funds to a non-profit substance abuse center in the county, awarded a bid for the demolition of a piece of county-owned property in Summersville, heard financial requests from the Richwood Heritage Center and the newly-formed Richwood Community Center and gave an update on the county's regional jail costs.
Present for the meeting were Commission President Garrett Cole, Commissioner Dr. Lloyd Adkins and Commissioner Craig Chapman.
Funding for Summersville Airport
Nicholas County Airport Authority member Rodney LeRose came before the commission to discuss funding for the Summersville Airport. He noted that the City of Summersville has already given the airport $50,000 and is considering additional funding.
President Cole said part of the original agreement was that the commission would give $100,000.
Commissioner Adkins, who is also chairman of the Airport Authority, agreed that the airport is going to need more money and felt that the commission should hold off on making any contributions until after discussions at the Airport Authority meeting this week. The meeting was to include meeting with officials of Yeager Airport of Charleston who have agreed to help the Airport Authority turn their situation around financially.
The commission voted unanimously to give the Summersville Airport $100,000 with no more funding until at least the 2022-23 fiscal year.
The $100,000 will come from the county's economic development funds. Commissioner Cole noted that the county normally only receives about $37,000 in economic development funds but there was a recent surge in which the county received $114,000 in economic development funds.
---
Richwood council gains new member
Mayor Gary Johnson, left, swears in Jourdan Deitz.
After a brief executive session to discuss the vacant ward 3 seat, Richwood council voted to confirm Jourdan Deitz for the position.
Mayor Gary Johnson administered the oath of office and swore Deitz in at the regular council meeting on Thursday, July 15, 2021, at city hall.
Former ward 3 representative Britt Nicholas resigned to take a position with the city.
Additionally, council also voted to authorize Johnson to apply for a grant for water leak detection and to use $25,000 in rescue act funds to match the state grant.
Region 4 will do the application.
---