---
Alice Ann Derberry
88, of Summersville
---

Evelyn Mae (Sid) Easter
88, of Hurricane
---
Elizabeth Rose Hinkle
75, of Craigsville
---
Robert A. "Bob" Tyler
68
---
Cheryl A. Holmes Salomon
Memorial service at Birch River Cemetery on Saturday, July 24, 2021, at 11 a.m.
---

FOR FULL OBITUARIES PLEASE SUBSCRIBE TO EITHER THE PRINT EDITION OR THE GREEN EDITION OF THE NICHOLAS CHRONICLE
Follow us on Facebook and Twitter!
Del. Hanna retains House Seat
Deeds defeats Baldwin for State Senate
Incumbent Republican 48th District Delegate Caleb Hanna was reelected to the West Virginia House of Delegates in the General Election held on Tuesday, Nov. 8.
In Nicholas County, Del. Hanna received 1,283 votes to defeat Democratic challenger Eric Hanson Sebert of Hominy Falls who received 561 votes.
Del. Hanna, of Fenwick, was re-elected to his third two-year term in the House of Delegates. He was the only Nicholas County officeholder on the ballot with opposition. All other incumbents or those who won nomination for the first time in the May Primary Election were unopposed.
Del. Hanna also received the most votes in Webster County and two precincts in western Greenbrier County, which are also part of the district, to win by a margin of 2,874 votes to 1,192 for Sebert.
Republican challenger Vince Deeds of Renick, Greenbrier County, was the top vote-getter in Nicholas County for election to the State Senate in the 10th District. Deeds garnered 4,380 votes while incumbent Democrat Sen. Steve Baldwin of Ronceverte had 1,921votes. Independent candidate Aaron Ransom, also of Ronceverte, received 161 votes. The 10th District also includes Greenbrier, Summers and Monroe counties and a portion of Fayette County. For the entire district, Deeds had 18,887 votes, Sen. Baldwin 12,010 and Ransom 1,079.
Incumbent Democrat Nicholas County Circuit Clerk Deborah Sweeney Facemire of Summersville was reelected to a four-year term running unopposed and received 4,500 votes.
Republican Nicholas County Clerk Bobby Painter II of Mount Lookout ran unopposed for reelection to a four-year term and totaled 5,551 votes.
Also running unopposed for election to the Nicholas County Commission for a six-year term representing Cherry District was Republican Gary E. Roberts of Craigsville with 5,334 votes.
Incumbent Republican 49th District Del. Heather Tully was reelected to a two-year term in the House of Delegates and received 3,798 votes. She was unopposed.
In the race for U.S. House of Representatives First Congressional District, incumbent Republican Congresswoman Carol Miller won by a large majority over Democratic challenger Lacy Watson of Bluefield in the district and countywide. In Nicholas County Rep. Miller received 4,726 votes and Watson got 1,376 votes. Independent Belinda Fox-Spencer of Peterstown had 251 votes
Just as happened statewide, Nicholas County voters rejected all four of the proposed Constitutional Amendments. Amendment 1, the clarification of the judiciary's role in impeachment proceedings, received 2,284 votes for and 3,978 against.
Amendment 2, the Property Tax Modernization Amendment, was defeated with 1,868 votes for and 4,588 against.
Amendment 3, the Incorporation of Churches or Religious Denominations Amendment, was rejected by county voters with 2,386 voting for and 3,855 against.
Amendment 4, the Education Accountability Amendment, was rejected by county voters with 2,430 voting for and 3,982 against.
Nicholas County had a total of 1,612 early voters, according to the Nicholas County Clerk's office. A total of 149 absentee ballots were sent out by the County Clerk's office and 130 of them had been returned by Tuesday. All absentee ballots are counted if they are postmarked by Nov. 8.
A total of 6,636 of the county's 15,527 registered voters cast a ballot in the General Election for a 43 percent voter turnout.
The Nicholas County Commission will canvass the votes on Monday, Nov. 14, at 9 a.m. at the Nicholas County Community Corrections Day Reporting Center on Broad Street in Summersville.
---
Nettie woman wins truck in vaccination sweepstakes
Grace Fowler, of Nettie, knew she was meeting someone at the Summersville Wendy's on Wednesday, July 14, 2021, at 12:30 p.m.
What she didn't know was the meeting was with West Virginia Gov. Jim Justice and his English bulldog, Babydog.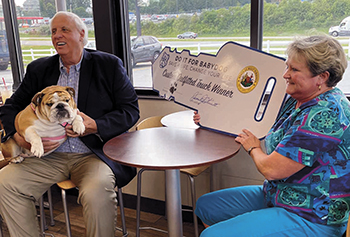 Jill Nettles Butcher photo
Babydog bearing gifts: Gov. Jim Justice and his English bulldog, Babydog, left, meet with vaccination sweepstakes prize winner, Grace Fowler.
Justice and Babydog were in town to present Fowler a custom outfitted truck — a black Dodge RAM with leather interior.
Fowler won the truck in the Covid-19 vaccination "Do it for Babydog: Save a life, Change your life" sweepstakes.
To the surprise of the lunchtime crowd, Justice, along with Babydog, sat down with Fowler at her table.
She told him that she received her vaccines in December and January.
She also urged people to get vaccinated to help save lives.
Fowler, a dietary clerk at WVU Medicine/Summersville Regional Medical Center, said she was "overwhelmed and nervous" at the surprise.
She had dreamed of owning a new truck and her boyfriend, Dennis Akers, who brought her to the meeting, said she'd been talking about trading her vehicle.
---
Commission contributes to airport
The Nicholas County Commission on Wednesday, July 14, voted to provide financial support to the Summersville Airport and the Nicholas County Child Advocacy Center.
The commission also contributed funds to a non-profit substance abuse center in the county, awarded a bid for the demolition of a piece of county-owned property in Summersville, heard financial requests from the Richwood Heritage Center and the newly-formed Richwood Community Center and gave an update on the county's regional jail costs.
Present for the meeting were Commission President Garrett Cole, Commissioner Dr. Lloyd Adkins and Commissioner Craig Chapman.
Funding for Summersville Airport
Nicholas County Airport Authority member Rodney LeRose came before the commission to discuss funding for the Summersville Airport. He noted that the City of Summersville has already given the airport $50,000 and is considering additional funding.
President Cole said part of the original agreement was that the commission would give $100,000.
Commissioner Adkins, who is also chairman of the Airport Authority, agreed that the airport is going to need more money and felt that the commission should hold off on making any contributions until after discussions at the Airport Authority meeting this week. The meeting was to include meeting with officials of Yeager Airport of Charleston who have agreed to help the Airport Authority turn their situation around financially.
The commission voted unanimously to give the Summersville Airport $100,000 with no more funding until at least the 2022-23 fiscal year.
The $100,000 will come from the county's economic development funds. Commissioner Cole noted that the county normally only receives about $37,000 in economic development funds but there was a recent surge in which the county received $114,000 in economic development funds.
---
Richwood council gains new member
Mayor Gary Johnson, left, swears in Jourdan Deitz.
After a brief executive session to discuss the vacant ward 3 seat, Richwood council voted to confirm Jourdan Deitz for the position.
Mayor Gary Johnson administered the oath of office and swore Deitz in at the regular council meeting on Thursday, July 15, 2021, at city hall.
Former ward 3 representative Britt Nicholas resigned to take a position with the city.
Additionally, council also voted to authorize Johnson to apply for a grant for water leak detection and to use $25,000 in rescue act funds to match the state grant.
Region 4 will do the application.
---