---
Cuauhtemoc Isaac Ayala (Temo)
45, of Ringgold, Ga.
---
Lewis "Butch" Wade Bailey
74, of Craigsville
---
Emery Kenton Boone
93, of Lewisburg
---

Esta Marie Brown
89, of Sutton
---
Patricia Fleming
56, of Cragisville
---
Lorene Bell Fowler
85, Tioga
---
Phyllis Juanita Guthrie
Springville, Utah
---
Harlow Walter McHenry
98, of Summersville
---
Irene Hare Williamson
108, of Richwood
---

FOR FULL OBITUARIES PLEASE SUBSCRIBE TO EITHER THE PRINT EDITION OR THE GREEN EDITION OF THE NICHOLAS CHRONICLE
Follow us on Facebook and Twitter!
On the Frontline:
Doing What We Love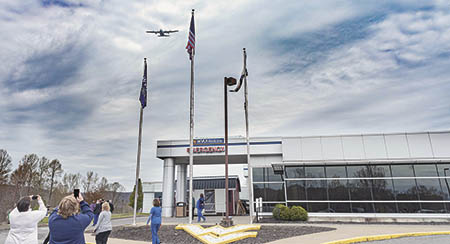 Anne Johnson photo
Frontline healthcare workers from WVU Medicine (Summersville Regional Medical Center) watch the West Virginia Air National Guard flyover on Wednesday, May 13. The flyover was a nation-wide salute to healthcare workers on the frontline, fighting the COVID-19 pandemic.
By Anne Johnson
Last week, I witnessed something very moving and emotional. As I drove to Summersville Regional Medical Center on Wednesday, May 13, I saw a group of medical professionals walking toward the main hospital in their armor of scrubs and masks. I waved at them, wanting them to know how much they are appreciated. They were there for the same reason I was; the 130th Airlift Wing was flying over the hospital in honor of healthcare workers and responders during the COVID-19 pandemic.
I continued to the hospital lot and parked, noticing a few more of these masked heroes emerge from the hospital. I put my mask on, grabbed my camera, and walked toward a small group of nurses gathered outside the front entrance. I kept my distance, watching them from afar. As I thought about how brave these women and men are, tears welled in my eyes. I waved at the newest arrivals and they humbly waved back, their eyes crinkling, evidence of a warm smile hidden behind their masks. A moment later I turned to see a nurse standing to my right. Her eyes sparkled and she held herself in such a way that you knew she had an affectionate demeanor, and her patients were fortunate to be in her care.
"Thank you for all you do!" I told her.
She looked at me with smiling eyes. "I don't feel that we are heroes," she began, her voice upbeat. "We are just doing what we love. This is a great time to be a nurse."
My heart swelled with pride at this selfless sentiment and her desire to be there for the sick and emotionally distraught, her only objective to help make them whole again. This was the goal of every healthcare worker there-doctors, nurses, public health workers, first responders-and of those who couldn't attend. It was their charitable attitude that made this day even more special. I had come there to pay tribute to these compassionate people but, true to form, they gave me something to make me feel better. In a world that is so uncertain, these medical professionals shared hope with me that day, and stabilized the unbalance I had been feeling.
Craigsville woman dies from coronavirus
Elizabeth Tracy
Craigsville resident Patricia Fleming's favorite season was spring, with all its flowers and warmth. She enjoyed camping, especially at Cranberry River, and was devoted to her family and her Christian faith.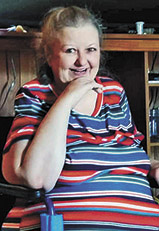 Patricia Fleming
She was also, sadly, Nicholas County's first COVID-19 fatality, dying from the virus the day after Mother's Day, May 11.
Fleming, 56, died at the Princeton Community Hospital 19 days after testing positive for the coronavirus, said her daughter, Phalon Bennett, of Cowen.
She had gone to Summersville Memorial in mid-April for a urinary tract infection and was transferred to a Bluefield hospital three days later.
She was at the Bluefield facility for about a week when she developed a fever and was then transferred to the Princeton hospital, where she tested positive for the coronavirus.
Fleming, a diabetic with COPD, was put in the CCU at Princeton. She later showed some improvement and was moved into her own room, giving the family hope that she could beat the virus.
However, she contracted pneumonia in both lungs.
Health Department Coronavirus update
County has 10 cases
As of 3:30 p.m., May 18, 2020, West Virginia has 1,491 confirmed cases with 67 deaths. Nicholas County presently has 10 confirmed cases.
You can be tested for serum antibody at all Camden Family Health facilities. To be tested, you will need to call and make an appointment. If you have symptoms of COVID-19 you will receive a nasopharyngeal swab for COVID-19. To be tested for serum antibody you must be seen by a provider. The testing requires a provider order.
The Governor's Safer-At-Home recommendation is in effect. Additionally, West Virginia Strong The Comeback (available at the Governor's website) gives guidance for safely opening fitness centers, gymnasiums, recreation centers, and similar businesses. Guidance for safely opening restaurants with indoor dining is available. Guidance for safely opening low contact sports businesses (sports training facilities, dance studios, etc.) is also available.
Thanks to everyone for helping our county minimize the COVID-19 risk.
We have listed just some of the highlights of the current re-opening phase. There are far too many rules and recommendations that affect businesses to be listed here. Please go to: http://governor.wv.gov and click on West Virginia Strong —The Comeback for a complete set of rules and recommendations to follow. Again, we urge everyone to adhere to this guidance.
Nicholas County Health Department (NCHD) continues to follow state and federal guidelines for Coronavirus 2019 (COVID-19).
COVID-19 TEST SITES
• Summersville Regional Medical Center (SRMC)
• Med Express (at Walgreens Summersville)
• Cardinal Pediatrics
• Camden Family Health locations (Summersville Clinic, Richwood Clinic, Nettie Clinic, and Craigsville Red Oak Clinic).
CALL YOUR PHYSICIAN FIRST VIA TELEPHONE BEFORE GOING TO A TEST SITE.
Not everything you hear on social media is true. Get the most updated reliable info about COVID-19 at : www.cdc.gov or www.coronavirus.wv.gov
Please do not relax on any of the safety precautions and please stay well and stay safe!
Nicholas County Health Department
One Stevens Road, Suite 201
Summersville, WV 26651
304-872-5329
Richwood Police Committee recommends temporary chief
After a 30-minute executive session, the Richwood Police Committee voted to recommend a temporary police chief and to recommend an investigation into current Police Chief Charles L. "Chuck" Burkhamer Jr.
An emergency meeting was conducted at 4:30 p.m. on Monday, May 18, 2020, at city hall in Richwood.
On Wednesday evening, May 13, Burkhamer was arrested and charged with domestic battery. The alleged incident involved Burkhamer's wife.
He is out on bond.
Burkhamer is currently suspended with pay. He did not attend the meeting.
The committee recommended to Mayor Chris Drennen that the city hire Jacob Casey, of Craigsville, as temporary police chief.
Drennen said Casey, who worked as a Richwood police officer in 2016, was highly recommended by several people, including Nicholas County Sheriff William F. Nunley II.
Drennen said that the current police force, Jon Sergeon and Billy Freeman, who are newer hires, need guidance that Casey, who is from Webster Springs, could provide. Sergeon and Freeman both were at the meeting.
Police Commissioner and committee chairperson Kevin Cox said that Sergeon and Freeman are working on a weapon inventory.
He commended their hard work in serving the city.
"We appreciate all you've done," he said.